While Las Vegas may not be the first thing you think of when you are craving some fabulous BBQ on the Strip, Sin City may surprise you.
Does your mouth start to water at ribs smothered in barbeque sauce served with amazing potatoes and greens? Do you need something hearty to help your day-old hangover? Are you looking for tasty chicken rubbed in spices and kissed by the flames of a grill?
Believe it or not, Las Vegas barbecue has it all. Here are our choices for some of the best BBQ on the Strip.
Grab Some Finger-Lickin' Good BBQ on the Strip
Downhome country favorites are the way to go, and Gilley's delivers. Overlooking Siren's Cove (where there used to be a pirate show) this prime spot for BBQ on Strip location offers great food, music and dancing when it turns into a western club in the evening. Try one-of-a-kind dishes like the Texas Nacho Grande, piled high with Gilley's Chili, cheese sauce, black olives, jalapenos, pico de gallo and topped with sour cream. Or grab a traditional steak topped with zesty housemade tomato jam, fried jalapenos and onions.
If you are looking for the ultimate hangover cure, check out their breakfast options on the weekend with Texas French Toast or Loco Moco. You can even chase back your headache with the hair of the dog and grab some bottomless mimosas for just $22 a person.
Hours: Saturday and Sunday 10 a.m. to 2 a.m.
Monday to Friday 12 p.m. to 2 a.m.
2. Virgil's Real BBQ in The LINQ Promenade
New York has more to offer than its pizza. The BBQ scene is a national delight, and it comes to life in the form of Virgil's Real BBQ inside the LINQ Promenade.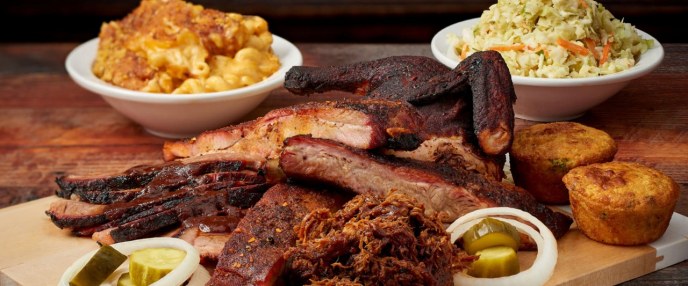 This place is a backyard barbecue experience taken to the next level. Open all day for hungry carnivores, Virgil's caters to the diversity of tourists on the Las Vegas Strip. BBQ dishes inspired by classic American flavors are ready and waiting to give visitors some of the comforts of home cooking. For the best of all worlds, get some freshly-smoked Texas Beef Brisket with cheddar cheese grits and collard greens with ham hock.
3. Blood Bros Texas BBQ at Resorts World
Famous Foods Street Eats is more than just a food court. It's a destination for a worldly display of flavors, from Chinese cuisine to Italian delights. For that reason, Blood Bros is right at home here.
Blood Bros is a family act, and the trio Terry Wong, brother Robin Wong and Quy Hoang are notorious for whipping up Texas-style barbecue dishes with touches of Asian flavor. Sample spicy selections with authentic ingredients, such as gochujang pork ribs, and taste the incorporation of Korea's favorite chili paste with every bite.
Hours: 11 a.m. to 11 p.m. daily
For more international BBQ choices, don't forget to check out some of the Korean BBQ restaurants in Las Vegas for heaven on a hibachi.
4. Jessie Rae's BBQ just behind Mandalay Bay
Offering Las Vegas barbecue as you have never seen before, Jessie Rae's has a personality and flavor all their own. Taking traditional processes, they have created a unique voice for barbecue in the Las Vegas Valley. They have a wide selection, but if you want to really see what this BBQ joint has to offer, try their slow-smoked ribs or brisket. Other award-winning meats they offer include chicken, pulled pork and hot links.
You will want to dip your waffle fries in any of their amazing sauces as well, including but not limited to Alabama white, Pig Sweat (a Carolina Vinegar sauce), God and their Fallen Angel sauces. Fallen Angel is made with reaper peppers and you will not want to miss out on the amazing flavors they have to offer.
Hours: Monday to Thursday 11 a.m. to 7 p.m.
Friday to Sunday 11 a.m. to 8 p.m.
5. Chicks & Butts at Hawai'ian Marketplace
Yes, the name is hilarious. Yes, the food is delicious.
Chicks & Butts brought the hearty spirit of New Orleans cooking to the Las Vegas Strip. When the ingredients are farmers-market fresh (and there are three kinds of grits on the menu) a surefire "satisfaction guaranteed" kind of meal awaits. Pair any combination of meat and sides with one of six refreshing Kool-aid flavors, but (no pun intended) we recommend the Beale street wings.
For even more Nawlins delights, Chicks & Butts offers catering services with all of the meats and twice the desserts.
Hours: 11 a.m. to 10 p.m. daily
6. Big Billy's BBQ in Miracle Mile Shops
Big Billy's has coined a term to use when reference finger-lickin' good barbecue, and that term is "meatology."
This is the place to order meat by the pound, from pulled pork to brisket and poultry and beyond. For a classy take on a breakfast staple, order the bacon jam as an appetizer, for the perfect blend of sweet and smoky slathered on two thick slices of bread. Plus, it's the perfect takeaway choice for travelers on the go, as Big Billy's as
Bonus: Big Billy's has vegan BBQ selections made with jackfruit.
Hours: 11 a.m. to 9 p.m. daily
7. Ellis Island BBQ
Ellis Island is a jack of all trades on the Strip, with its karaoke, casino and a BBQ joint that is fully adjustable to all hunger levels. Choose your own adventure with half and full chickens and racks of ribs, to see what the locals are raving about.
Plus, with the preset lineup of sides dishes — baked beans, corn on the cob, garlic bread and coleslaw — no further decision-making needed. Just sit back and enjoy your meal.
Hours: 4 p.m. to 10 p.m. Monday to Thursday
4 p.m. to 11 p.m. Friday and Saturday
More BBQ Joints off the Strip
8. Lucielle's Smokehouse Bar-B-Que at Red Rock Casino
A national chain, this local's go-to spot is known for hearty portions and amazing flavors. A Southern barbecue joint that doesn't shy away from delicious, their low and slow cooking process has fall-off of the bone ribs, tri-tip, brisket and so much more.
Book Now: Take The Best Bites On The Las Vegas Strip: A Beginner's Guide To Sin City Tour »
Not only are their meats amazing (and flavored in different styles and sauces) but their sides are not to be missed. Onion straws, Southern-fried dill pickles and cracked out deviled eggs will have you unbuttoning your pants by the time the meal is over.
But make sure you leave room for dessert. Lucille's Deep-Fried Brownie Supreme is a creation that takes you back instantly to a carnival, where your only worry was what you were eating or what game you were playing next. This cookie-battered, lightly fried brownie is topped with vanilla bean ice cream, strawberries, brownie crumbles and a drizzle of chocolate sauce, served with a side of fresh whipped cream for dipping.
Not feeling a brownie? Don't worry, there are plenty more options for your dining pleasure, including a pretty sweet happy hour lineup.
Hours: 11 a.m. to 11 p.m. Monday to Saturday
9. John Mull's Meats and Roadkill Grill
Technically way off the Strip (with the original location in a residential neighborhood), it is a sin to exclude this incredible bbq joint. Featured on Diners, Drive-ins and Dives, Roadkill Grill has two locations that serve mind-blowing food. Their meats take on average 16 hours or longer to prepare and they use a special blend of seasonings that includes salt, sugar and spices.
You will not go wrong with any of their offerings which are quite substantial: ribs, briskets, pulled chicken, pork and hot links as well as goat, offal and fish. Their portion sizes are nothing to slouch at and their sides stand up to their meats as well, from mac and cheese and collard greens to beans and cornbread. You will not walk away hungry, but get there early. Once something is sold out, you won't be able to get it until the next day.
Hours: 9 a.m. to 6 p.m. Monday to Saturday (Check for special meats on Tuesdays and Thursdays)
Enjoy More BBQ on the Strip
These American barbecue restaurants in Las Vegas are sure to satisfy that deep craving for a hearty meal. But don't just take our word for it. Go out and enjoy these delicious options, or simply head to one of the country bars on the Strip for more fun.
---
Frequently Asked Questions About BBQ on the Strip