Whether it's a quick bite before you hit the town, a late night munchie craving or a fun night out for delicious tacos, these restaurants offer some of the best tacos on the Strip bar none. So, get hungry and work your way down the delicious list of our recommendations. Be warned though, this list will make you hungry.
Hungry for more? Sink your teeth into some of the best burritos on the Las Vegas Strip.
El Dorado Cantina
Our Recommendation: the Filet Mignon Signature Tacos

"Two tender prime filet tacos with house-made chimichurri sauce, crispy onion & micro cilantro."
Serving hungry diners 24/7, the El Dorado Cantina has been voted one of the top 5 Mexican restaurants two years in a row and in 2016, they were ranked the 28th top restaurant in the US. They serve authentic Mexican cuisine in an atmosphere that transports you immediately to old town Mexico. Their huge menu offers a little something for every taste, from enchiladas smothered in delicious sauce to signature lobster tacos that are out of this world.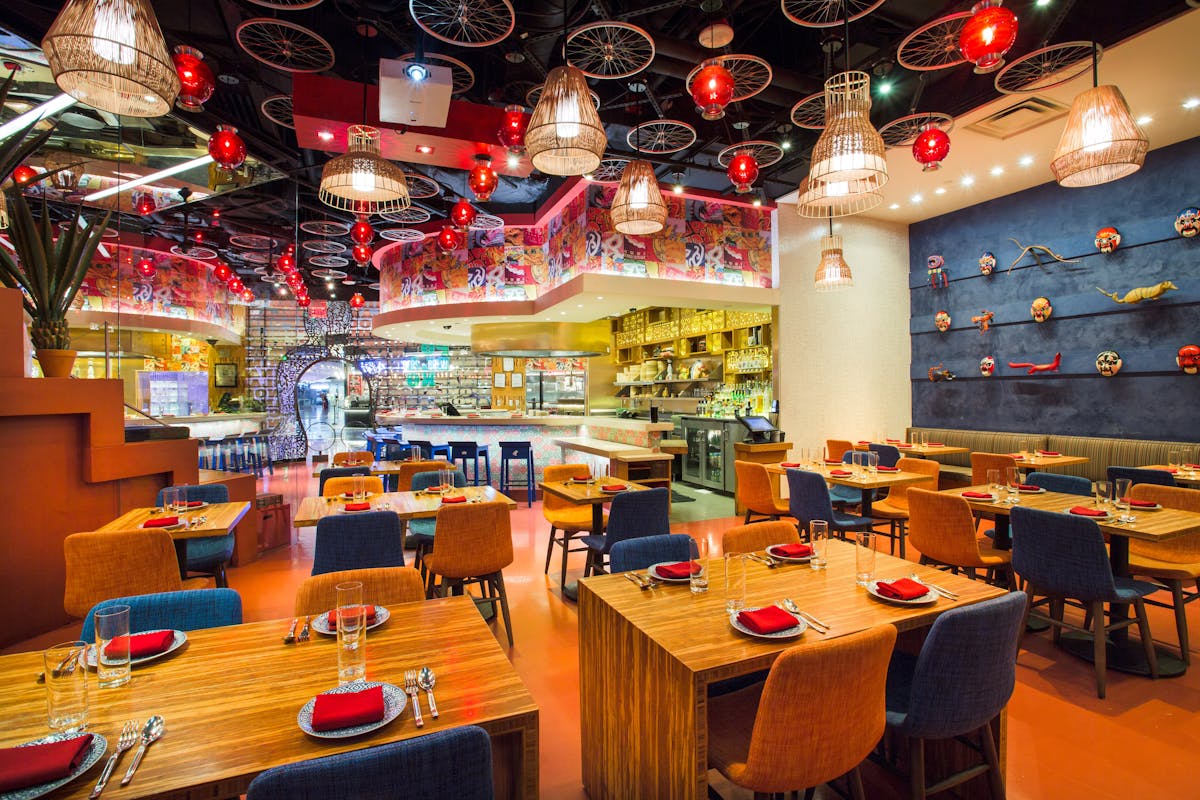 Our Recommendation: Quesabirria

"3pc Heirloom blue corn tortillas stuffed with lamb, beef, Menonita and Oaxacan cheeses, onions, cilantro, and served with consommé"
Looking for something a little different? Tucked away in The Cosmopolitan, José Andrés, of Iron Chef America acclaim, has fused the flavors and tastes of China and Mexico in a mind-blowing restaurant. A vibrant and colorful setting harkening to the street vendors in both Mexico and China, this restaurant is truly one of a kind.
With several menus including a happy hour, exploring China Poblano's menu will truly delight your taste buds. Their quesadilla de chicharrón delights the senses while the When Pigs Fly Dim Sum offers an unforgettable experience. Bring a friend with you so you can try as much as you can here.
Let The Cosmopolitan of Las Vegas take you into a world of lush, modern hospitality with fun twists and mysteries that dazzle each and every guest.
The Cosmopolitan of Las Vegas
Address: 3708 Las Vegas Blvd S, Las Vegas, NV 89109
Tacos el Gordo
Our Recommendation: the Adobada

"Spiced pork on a corn tortilla with your choice of fresh toppings"
Coming straight from Mexico, Tacos el Gordo ensures you will not leave their restaurant hungry. Big portions and bigger flavors is the name of the game at this delightful restaurant. These Tijuana style tacos are sure to satisfy your taco cravings, with handmade corn tortillas, fresh ingredients and top grade meats. Despite the name, they do offer other non-taco items such as quesadillas and mulas, but you don't want to miss out on their tacos. For the more adventurous eaters, try the tripa or lengua tacos (tripe and tongue) and have a unique experience all to yourself.
Cabo Wabo Cantina in the Miracle Mile Shops

Our Recommendation: Chicken Al Carbon tacos

"Grilled chicken, salsa arbol, avocado, corn tortillas, cilantro & onions"
Sammy Hagar's Vegas contribution, this restaurant smoothly intertwines the Las Vegas excitement with the beach vibes of Cabo San Lucas, Mexico. The authentic margaritas and fantastic flavors are a combination you do not want to miss here. A humble but diverse menu, there's a taste of a little something for everyone's Mexican food cravings. Don't miss out on the fundido de queso con chorizo or carne asada tampiqueña.
---
Our Recommendation: Rainbow Cauliflower tacos

"Red quinoa, tomato, red corn tortilla, green onion, smoked paprika, avocado balm"
Mandalay Bay has a surprisingly diverse selection of delicious restaurants and their Mexican offering is no exception. Overlooking the Lazy River pool feature, this vibrant and playful restaurant offers delicious options for the hungriest of diners.
Whether you're looking to escape the heat or spice up your night, this urban cantina has it all. Border Grill has a variety of sustainable options to choose from and you won't want to miss out on their chicken poblano enchiladas.
---
Hussong's Mexican Cantina at The Shoppes at Mandalay Place
Our Recommendation: 3 Barbacoa tacos

"Barbacoa Shredded Beef, Corn Tortillas, Onions, Cilantro, Queso Fresco, Pickled Red Onions, Rice, Refried Beans"
Where better to finish our non-exhaustive list of tacos on the Las Vegas Strip than the restaurant that invented the margarita? Well, the original location did in October 1941. And when you have the original margarita, you have to have tacos that match that impeccable standard. Needless to say, they definitely have the delicious foods to match.
From warming your bones soups to hearty classics like fajitas and enchiladas, we dare you to try and leave Hussong's hungry. Their chile relleno takes you to the dusty desert, surrounded by cacti and burros, filling you until you're waving a white napkin of surrender. Find this hotspot between Mandalay Bay and Luxor.
When desert sands aren't enough, escape to Mandalay Bay for all of the hallmarks of a tropical getaway, right on the Las Vegas Strip.
Mandalay Bay Las Vegas
Address: 3950 S Las Vegas Blvd, Las Vegas, NV 89119
Indulge in More Tacos on the Strip
Hopefully, that list made you as hungry as we are. Don't miss out on some of the best tacos on the Strip. The perfect way to help drink more margaritas.
---
Frequently Asked Questions About Tacos on the Strip
Where is Taco Bell on the Strip?
What are the must try tacos in Las Vegas on the Strip?
What restaurants on the Strip have cheap tacos?
Cheap food and delicious tacos are easy to find on the Strip, at places like Tacos El Gordo and Apache Taco Shop.