We all know that Las Vegas is a city that caters to adults. What does that mean when it comes to entertainment?
Performances range from magic shows and variety acts to entertainment that is decidedly adults only. In the latter vein, burlesque is booming all over the country, and especially in Las Vegas. Burlesque shows are cropping up all over the city, from the major theaters inside the Strip accommodations to boutique locations off the Strip.
For all of the Christina Aguilera fans out there, get ready to sing along with your favorite sexy show tunes when you see the burlesque shows in Las Vegas.
X Burlesque has recently celebrated 20 years on the Las Vegas Strip. The revue was placed on temporary hold during the COVID-19 pandemic, but is back with more shows, solo acts and sexiness. Nancy Ryan is the longtime host, packing a comedic punch to an already engaging set.
New numbers were incorporated into the lineup for the anniversary, all with sensational elements that give the show its signature pizzaz. Ranging from contemporary and interpretive to in-your-face fun, the X Burlesque acts are all unique, exciting expressions that are an accurate homage to what puts the "sin" in Sin City.
The same creators that brought X Burlesque to life have a country version of this enticing revue. The songs in the lineup are familiar, with the added adult elements to make it extra fun. See the show at Harrah's Cabaret after spending time at the Harrah's casino.
Read More: Kick Back At Some Country Bars In Las Vegas »
As a fun bonus, a short movie filmed in Nelson, NV is played for the guests. Nelson is a ghost town located about 45 minutes outside of Las Vegas, which has an old-time Western appeal that is full of history. For those that enjoy mystery with their history, read more about the haunted places on the Las Vegas Strip.
FANTASY at Luxor
This award-winning revue has charmed Strip audiences for over two decades.
It's not just dancing. Enjoy performances by Lorena Peril, the longtime singing act for FANTASY as she captures audiences with her vocal skills.
FANTASY runs nightly at 10:30 p.m. with additional showing airing Sunday evenings, ensuring that guests can catch a show before catching their flight home Monday morning.
FANTASY is also showing its support for the troops during the month of May. A complimentary performance will be put on for the troops on at Atrium Theater.
Read More: Explore Luxor Las Vegas »
For an experience that's "dead sexy," look no further than the Zombie Burlesque at V Theater. This unique concept incorporates horror and comedy into an already-bold show. Head to Club Z for a mix of musical performances and sensual choreographed numbers, placed throughout a vivacious variety show.
Most revues are known for featuring only female dancers, but ROUGE is breaking that rule in spectacular fashion. Dubbed "The Sexiest Show in Vegas," the creators of other notable performances such as WOW —The Vegas Spectacular have brought a brand-new coed performance to the stage at The STRAT. Prepare for acts that feature contortionists, acrobats and a large amount of energy contributed by a level of "sexpertise" that is a coveted aspect of a Las Vegas Strip show.
BurlesQ at Alexis Park All-Suite Hotel
Coming to Vegas from the Pegasus showroom, BurlesQ is everything a classic revue show needs and wants. A cleverly-named cast of characters takes the stage to excite and entertain. BurlesQ plays every Thursday through Sunday at 9:30 p.m. at Alexis Park.
This non-gaming casino is just a couple of miles away form Harry Reid International Airport, and is one of the cheap hotels in Las Vegas.
More Burlesque in Las Vegas
Burlesque Night at Red Dwarf
Sometimes, a stage is just the beginning of the show. This brand-new tiki bar houses a monthly burlesque night that feels like the show next door.
The drinks are another draw, with the typical flaming cocktails and an island atmosphere that will put you right in the middle of a tropical paradise.
Join the crowd of local fans at Red Dwarf on the second Thursday of each month, and don't forget to bring cash. With the venue's intimate size, the opportunities to tip the performers are aplenty, as they move between the tables in show-stopping outfits.
---
Looking for more fun? Catch some of the best lounges on the Las Vegas Strip for drinks and entertainment in classy, upscale settings that are reminiscent of old-time Vegas. If you party well into the night and need to catch breakfast, there are several breakfast restaurants on the Strip to fuel the day ahead—or the early morning bedtime.
Black Girl Magic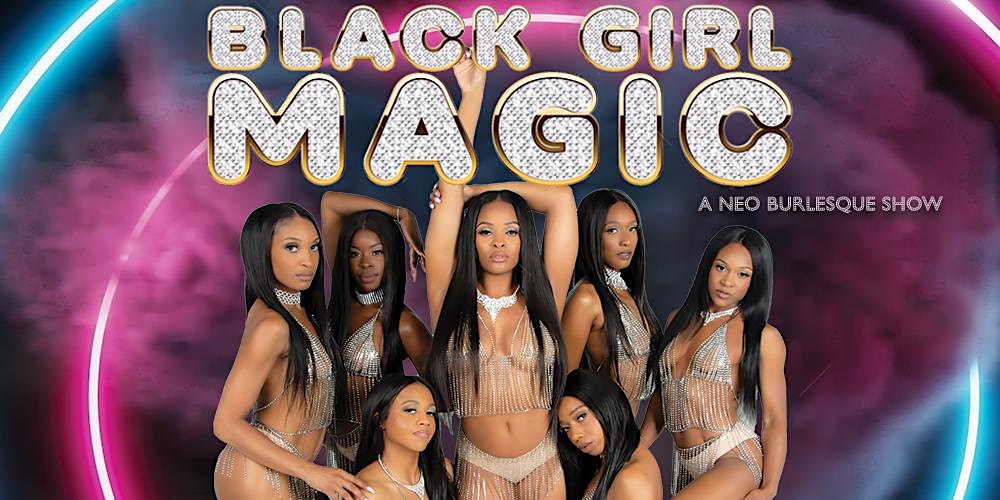 The creators of Black Magic Live are bringing an exclusive show close to the Strip for summer 2022. Black Girl Magic Burlesque is Vegas's newest revue, featuring an all-black female cast and a sizzling list of numbers that is sure to entice audiences.
This show is already sold out on several platforms, with a July 15 opening night. Buy tickets for Black Girl Magic debut performances, taking place at the brand-new LaMarre Theater located on Main Street.
Burlesque Hall of Fame
It should come as no surprise that there's a museum dedicated entirely to burlesque in Las Vegas. Learn about its place in American history and take in the artifacts, including costumes, props and advertising materials. For the hardcore fans, catch some of the Burlesque Hall of Fame showcases, with this year's featured events taking place at The Orleans Las Vegas.
Sexxy
This raunchy revue was formerly featured at Westgate Las Vegas. Now, the show has ported over into "Sexxy After Dark" at Hustler Club, one of the strip clubs in Las Vegas. Catch a performance Thursday through Saturday with show times starting at 9:30 p.m.
---
Frequently Asked Questions About Burlesque Shows in Las Vegas
Does Las Vegas have burlesque shows?
Definitely. With Las Vegas featuring a number of shows of all types, the amount of burlesque revues grows with each passing year.
Is there an age limit for attending a burlesque show in Las Vegas?
Yes, and it depends on the show. Zombie Burlesque does not recommend that anyone under the age of 16 attend, while most other shows are 18+ for attendees. For other kid-friendly fun, explore the amenities of the kid-friendly hotels in Las Vegas.
What is a burlesque show in Las Vegas?
Burlesque is an art form that features extravagant theatrics through a combination of musical numbers, striptease and choreographed numbers in a mix of styles. Seeing one of these shows is a great accompaniment to staying at one of the adults-only resorts in Las Vegas.