You can't claim the title of "The Entertainment Capital of the World" without a world-class lineup of shows and, notably, the ability to appeal to all audiences. Las Vegas has continued to evolve its entertainment lineup far beyond the Rat Pack era, introducing new headlining acts, technologies and concepts to appeal to returning and first-time visitors.
As a result, the city's entertainment offerings now range from the traditional – family-friendly comedy and acrobatic shows – to the A-list – award-winning headliners with their own residencies – to the adult – off-color comics, spicy productions and late-night dance revues starring the toned, tanned and muscular.
The entertainment lineup is like a buffet, so here's a guide to help you decide between all of the shows on the Strip.
Bring the Family
Traveling with kids or grandparents and looking for a family-friendly show? Las Vegas has something to appeal to tastes of all ages.
Known to audiences outside of Las Vegas for appearing on America's Got Talent, comedy illusionist Nathan Burton performs daily at 4 p.m. inside Saxe Theater at the Planet Hollywood resort and casino. The Oakland-born Vegas transplant is one of the city's longest-tenured magic acts, having arrived in 2006 at the Aladdin (now Planet Hollywood).
In addition to America's Got Talent, the star has been featured on TLC's Miami Ink, VH1's Surreal Life: Fame Games, The Food Network's Last Cake Standing, truTV's Storage Hunters, NBC's Miss USA Pageant, Lifetime's Coming Home, China's Got Talent, Masters of Illusion, and Penn & Teller: Fool Us.
Staged in 900-seat theater-in-the-round at Excalibur on the Strip, Tournament of Kings is one of Las Vegas' most famous dinner shows. While you and the family enjoy a banquet of roasted seasoned Cornish game hen and "mead," you are transported to the era of King Arthur as armored knights ride horses throughout the arena and battle the evil fire wizard Mordred. Tournament of Kings features dazzling visual effects, pyrotechnics, and costumes—an experience that beats a movie or video game any night of the week.
Las Vegas' Cirque du Soleil shows have largely been family friendly, but The Beatles: LOVE stands out for its colorful costumes, awe-inspiring acrobatics, and the timeless lyrics of The Beatles. Longtime Beatles producer George Martin was among the first visionaries to sign onto the show for its 2006 debut at The Mirage Hotel and Casino, and the soundtrack went on to reach Platinum status in one dozen countries.
The LOVE soundtrack has also won two Grammy awards for Best Compilation Soundtrack Album and Best Surround Sound Album – the latter a testament to the show's outstanding theater-in-the-round presentation.
It's not crazy to think that Michael Jackson would have had a Las Vegas Strip residency had he not passed away in 2009, but Cirque du Soleil's Michael Jackson ONE is the closest thing we'll get to seeing the King of Pop perform his greatest hits on stage. Combining Jackson's music catalog, legendary dance moves, and iconic costumes with Cirque's acclaimed acrobatics and high-end production values, ONE is much more than a tribute show, it's a must-see audio and visual experience.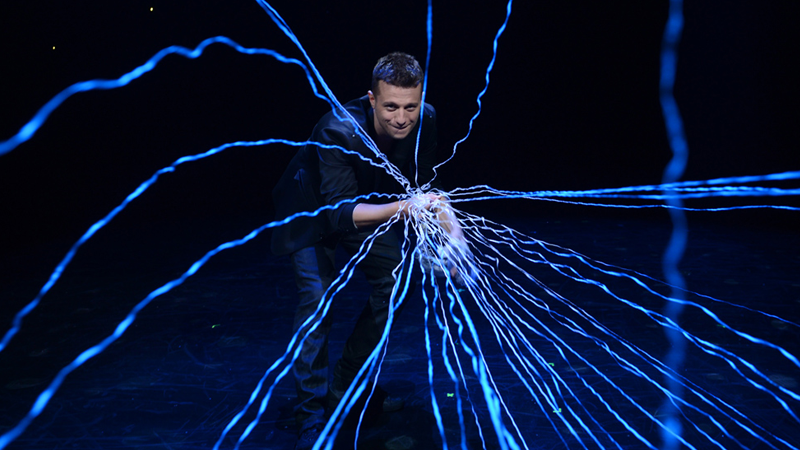 Mat Franco, another star whose big break came on America's Got Talent, had no trouble transitioning from the reality competition stage to his own showroom at The LINQ hotel on the Strip. Franco's "Magic Reinvented Nightly" is just that – a more evolved take on a traditional magic show and more crowd interaction. Franco's personality was made for Las Vegas, and the performer enjoys cracking jokes and poking fun at his own experiences learning the magic craft.
He also pledges to never put on the same show twice, so if you've already seen him, have you really seen him?
Awarded "Best Family Show" and "Best All Ages Show," the high energy Jabbawockeez remains one of the star attractions at MGM Grand Hotel and Casino. If you're looking for a truly unique show in Las Vegas, you can't do better than these masked dancers with seemingly inhuman moves. The world-famous dance crew's Timeless show is their fourth stage production and was launched in 2010 to celebrate the group's 10th anniversary in Las Vegas. They previously staged MUS.I.C. and JREAMZ at MGM Grand and PRISM at Luxor.
Must-See Headliners
Las Vegas has been a destination for singers in their prime ever since Celine Dion broke the mold in the early 2000s. She's delayed her return to the Strip at Resorts World, but there are plenty of must-see headliners that you can cross off your bucket list the next time you're in town.
One of the best-selling recording artists of all time, Usher made his residency debut on a custom-designed stage at The Colosseum at Caesars Palace in summer 2021, and he quickly became one of the hottest tickets in town.
Like all residency acts, you need to research in advance to ensure they'll be performing when you come to town, but Usher has already extended his residency, with the coveted Christmas week and New Year's Eve dates among his upcoming 2021 performances. The show itself is a greatest hits collection from Usher's catalog — "U Remind Me," "Burn," "You Make Me Wanna…," "Don't Waste My Time," "Yeah!" and so many more.
Bruno Mars launched his first Vegas residency in his 20s at The Cosmopolitan of Las Vegas but has since moved to Dolby Live at Park MGM. The 11-time Grammy winner is one of the hottest tickets in town thanks to his effortless energy and catalog of stuck-in-your-head hits. Mars is also one of the city's must-see New Year's Eve attractions, as he's spent many December 31sts on the Strip and will do it again in 2021.
Another artist that delivers nothing but the hits from her stories career, Shania Twain is among the most popular Las Vegas resident headliners. The singer first arrived on the Strip in 2012 with her "Still the One" residency at Caesars Palace and returned for a new show at Zappos Theater in 2019. The show is action packed with costume changes, choreography, and a stage that celebrates both Las Vegas and Twain's legacy as one of the world's most celebrated country and crossover artists.
The legendary Lionel Richie returned to the Strip for a new residency at Wynn Las Vegas' Encore Theater in 2019 after several years at Zappos Theater. His Back to Las Vegas is an all night long party, a trip through the hitmaker's decades-long career, and Richie makes sure to cover them all. Whether you want to hear his Commodores classics or solo hits, he'll have you dancing on the ceiling.
One of Las Vegas' newest resident headliners, longtime Van Halen frontman Sammy Hagar made his debut in 2021 at the Strat – formerly the Stratosphere Hotel and Casino. There's only one way to rock when it comes to Sammy, and that's to do it in good company. The singer made his Strat debut with his supergroup, The Circle, which consists of iconic Van Halen bassist Michael Anthony, drummer Jason Bonham, and former BusBoys guitarist Vic Johnson.
You can grab a seat for the show or get a ticket into the "Party Pit" if you want to feel like you're really at a rock concert.
The newest hotel resort in Las Vegas needed to make a big statement ahead of its summer 2021 grand opening. While just one headlining superstar would have done the trick in the past, Resorts World Las Vegas booked four huge names for its inaugural year: Celine Dion, Katy Perry, Carrie Underwood and Luke Bryan. While Dion had to postpone her early November debut, the trio of Perry, Underwood and Bryan are still more than enough to make waves in a city that loves big stars on big stages.
Look for Resorts World to continue adding new residencies to its Resorts World Theatre in the future, just as it continues to welcome the biggest names in electronic dance music (Tiesto, Zedd and DJ Snake, among others) to its Zouk Nightclub.
Good Times for Grown Ups
The Strip has something for everyone, but of course it can be more fun to leave the kids at home. If you're in search of a good time with grown up entertainment that puts the sin in Sin City, you can't go wrong with these selections.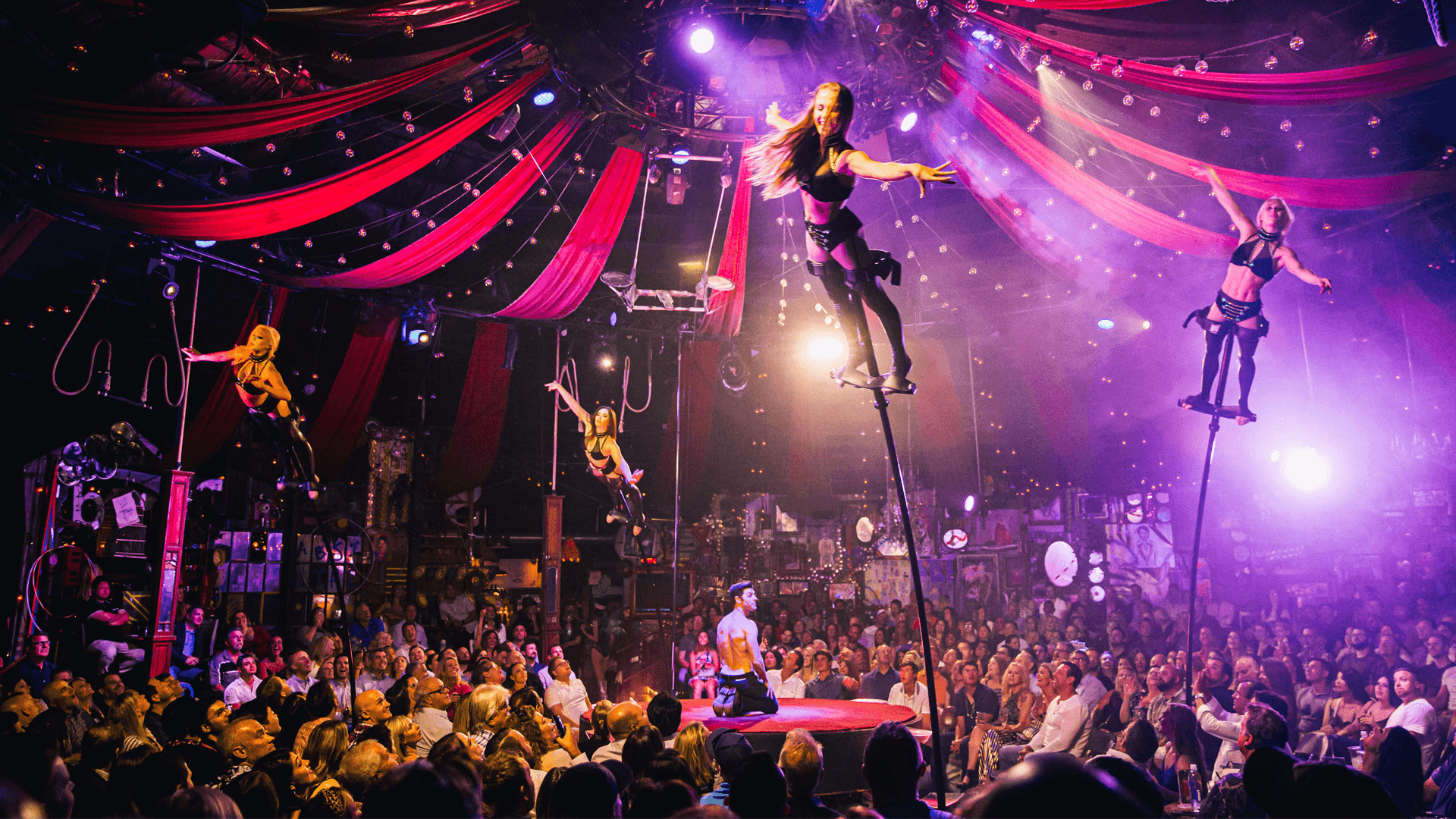 One of the most celebrated shows in Las Vegas history, the Spiegelworld-produced Absinthe has had a remarkable run at Caesars Palace. Part variety act, part comedy show, Absinthe is a celebration of carnival-style spectacle and off-color humor. It's not for the kids, but the parents are going to love it. Just a heads up, if you're sitting close to the stage, you can absolutely expect to draw the attention of acclaimed ringmaster The Gazillionaire. You might also see a celebrity sitting nearby, as Absinthe is a popular spot for Vegas headliners and stars swinging through town.
Who ordered the beefcake? The Thunder from Down Under have been bringing the Aussie heat for years in the Thunderland Showroom at Excalibur Hotel and Casino. Thunder is one of the city's most popular bachelorette party destinations, as throngs of hardcore fans can be seen in the front row nightly, eager to get their fill of these hunky studs. They dance, they sweat, they crack a few jokes, and they always it off. Who's going to say no to that?
If chiseled Aussie abs aren't your thing, might we interest you in the toned bodies of Luxor's FANTASY burlesque review. The multiple award-winner has been entertaining audiences for 20 years in Las Vegas with its fabulous dance sequences and titillating, barely-there costumes. Las Vegas has a long history of Strip showgirl revues, but FANTASY is no throwback. These performers are at the top of their game, bringing the dance moves to match the high energy music.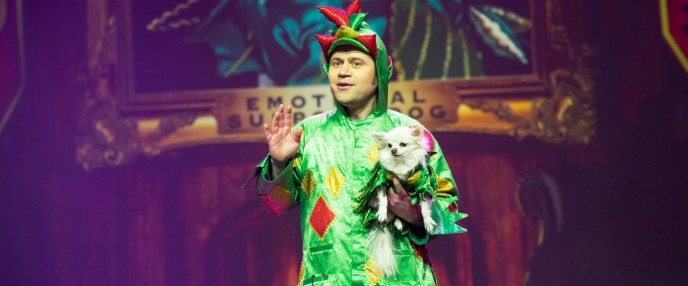 Another entertainer who got a big career boost from America's Got Talent, the surly, cynical and effortlessly funny Piff the Magic Dragon can be seen at the Flamingo, where he takes the stage alongside "the world's only magic performing chihuahua," Mr. Piffles. Piff proudly does not perform at children's parties, and you'll want to keep the kids at home too, because this act is adults only.
Sometimes you just want a good old-fashioned comedy show, and for that, nothing beats The Laugh Factory at Tropicana Las Vegas. On any given night, you might see an established comic working out fresh material or an up-and-coming artist with big time potential. Among the stand up comedy residencies on the club's 2021-22 calendar: Jon Lovitz, Paul Rodriguez, Pauly Shore, Jon Stringer and Jackson Perdue.
More Than Shows on the Strip
If a show isn't your speed, there are plenty of activities on the Strip to choose from. Visit the famed gondola rides at The Venetian, or take a ride on the extreme side with a canyon helicopter tour.
---
Frequently Asked Questions About Shows on the Strip
Are Vegas show tickets on the Strip cheap?
What shows are open in Las Vegas on the Strip?
With Las Vegas reopening slowly, almost all shows, events and dining are all open in Las Vegas.
Are shows on the Strip kid-friendly?