Find All Of Your Favorite Hotel Restaurants On Our Las Vegas Strip Map 2022 »
Dining in Las Vegas is one of its grandest commodities. Every cuisine is represented, and many range from simple to spectacular. Whether an item costs $10 or $1000, there is no shortage of taste to satisfy every palate.
Las Vegas is home to over 40 hotels and resorts on the Strip, with several more spread out throughout the city. Each one houses its own lineup of restaurants, in the theme of the resort and completely independent of it, and there are hundreds of restaurants to choose from.
If that seems overwhelming, don't worry. We've done all the hard work for you. This list was written with input from Las Vegas locals who love their city—and the Strip.
Our Favorites: The Best Restaurants on the Strip In Every Resort
American
Hell's Kitchen is impossible to miss. Just look for the giant flaming pitchfork in front of Caesars Palace. After that, follow your nose.
As one of Gordon Ramsay's many restaurants in Las Vegas, Hell's Kitchen is the spot to sample the chef's signature beef wellington alongside a mouthwatering roster of desserts and craft cocktails. Try not to eat before arriving, as there are enough dishes to sample to keep you there for hours.
Nothing beats a burger after a long day on the Strip, and Gordon Ramsay has a casual joint inside Planet Hollywood to satiate any cravings. Get adventurous with a stout burger or some hellfire wings, or go for some classic fish and chips and parmesan fries.
Burger Brasserie at Bally's
Let this upscale burger joint take care of any cravings. This fresh take on American fare has a French twist, with a breakfast menu and to-go choices. Try everything from a Champagne burger and a glass of wine to a breakfast burrito paired with a morning cocktail.
Tom's is our favorite place to do two activities: watch the game and get a massive cocktail. It's an excellent chance to relax after engaging in all of the cool things to do on the Strip in Vegas.
Take your love of books out to dinner. Every bibliophile will dream about the NoMad Library's raw seafood platters served among tens of thousands of books piled into dark wooden shelves. With its long-anticipated reopening in late 2021, the restaurant still maintains its dark, alluring aesthetic.
We love every bite of French cuisine at Paris Las Vegas, but Bellagio fountain views from the patio make Hexx our pick for this resort. When the weather allows it, dine on the patio with an epic charcuterie board and a glass of wine—or three.
No, this is not a Sephora knockoff, and no negative stereotyping is present here. Beauty & Essex has a niche entrance (hint: it's located in a certain pawn shop) but the connectivity between the trinket-themed dining rooms to the shop outside is impressive.
For the alcohol-free group members, have no fear. BEAUTY & ESSEX has a virgin cocktail list that is famous on the Strip.
Bobby's Burgers at Harrah's
Bobby's is a new fixture in Harrah's. Get all the classic American eats like burgers, fries and milkshakes to satisfy any and all cravings.
Robert Irvine's Public House at Tropicana
Chef and military philanthropist Robert Irvine is famous for his involvement in veteran-owned businesses and essential workers, and his Tropicana restaurant location is one of his many ventures. Making the claim to serve food "nothing like you can get now on the Strip" is bold, but correct, with dishes like bourbon maple salmon with Kennebec fries.
Early morning artisanal breakfast is one of the many draws to Zen Kitchen. Fresh and vegan-friendly, the Waldorf Astoria's signature restaurant is an excellent way to get your three squares a day. We recommend overnight oats for breakfast, a burrata salad for lunch and braised lamb pappardelle for dinner.
Asian
TAO Asian Bistro at Venetian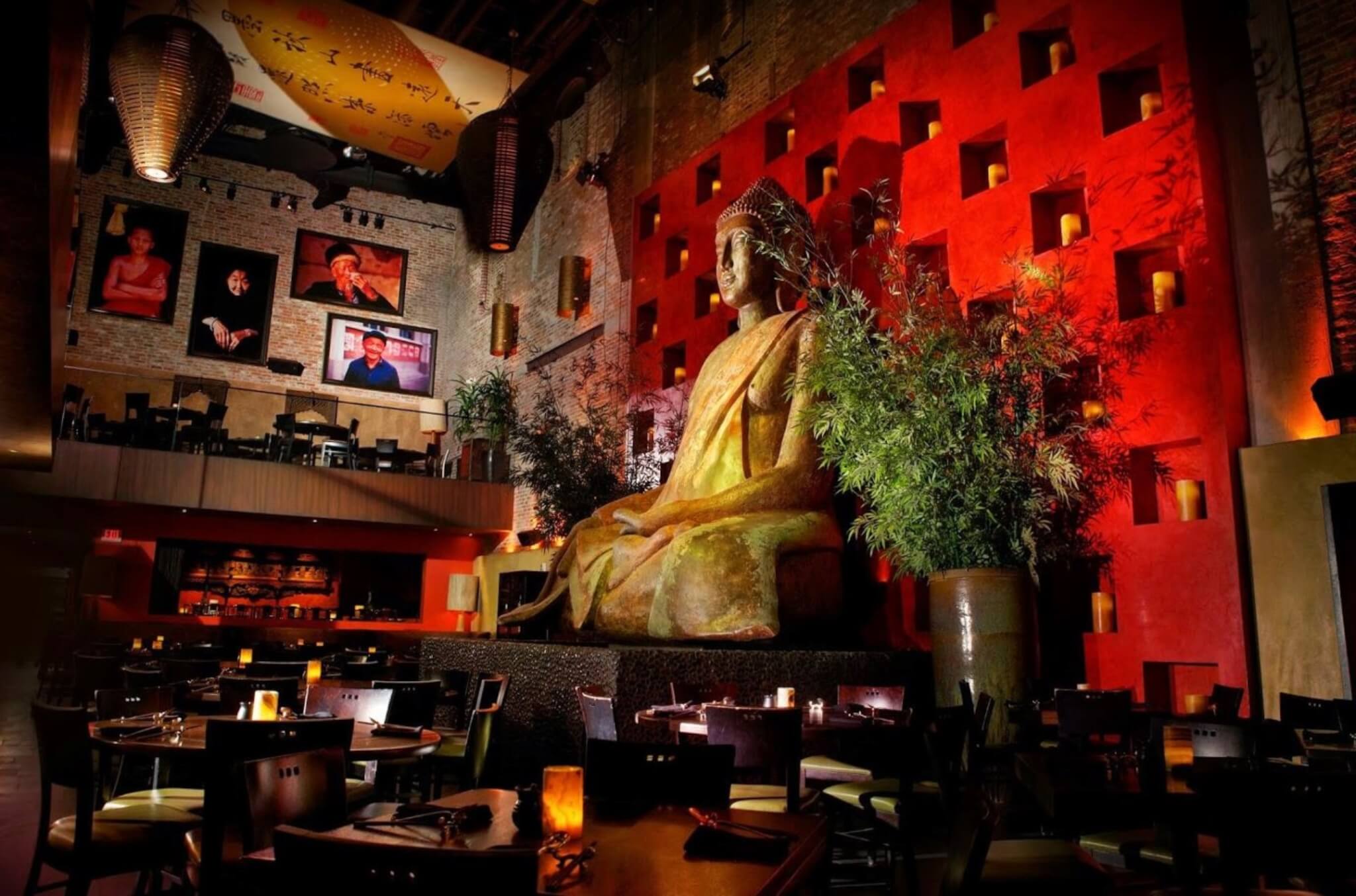 TAO makes the list almost every year for one of the highest-grossing restaurants in the United States. Part bistro, part nightclub, this Asian fusion hotspot delivers alluring ambiance and dishes from all over the East. Sample dim sum next to sushi and Thai duck fried rice, to name a few.
Chinese
Most Chinese food lovers don't picture a gourmet selection of noodles and buns, but Mott 32 sets the tone for fine Chinese dining. Named after its original address in New York, this Mott 32 location has won "Strip Restaurant of the Year" by Desert Companion.
FUHU at Resorts World Hilton
Chinese food is one of the most multicultural cuisines in the world. FUHU takes steps to represent several regions within its menu. With three kinds of duck, sushi rolls and some poppable tiger bites, more time will be spent making a decision than eating the food itself.
Bonus: FUHU carries vegan ingredients to emulate their meat dishes, and guests abstaining from animal products can choose vegan basil beef, roasted cauliflower and more.
Japanese
Why visit a hotel without visiting its namesake restaurant? This Nobu location is the largest in the world, in size and patronage. As a guest, you can feel the care and dedication put into each dish.
Don't let the fiery appearance of OTORO fool you. This is pure Japanese comfort food. Order a neat stack of wagyu beef fanned out among sushi and sashimi in portions that are meant to be shared.
Our favorite? The chicken katsu, a crispy delight served with truffle rice and a fried egg.
Breakfast and Brunch
Upscale dining doesn't always mean visiting a steakhouse. The highly-rated Terrace Point Café at Wynn is a resort visitor favorite, both for its convenience and delicious morning dishes. Get there early in the morning to grab a table with a view of the great outdoors.
Read more about Wynn and its deluxe eateries in our Wynn Las Vegas article »
Pyramid Café at Luxor
We didn't pick Pyramid Café because the theme connection is low-hanging fruit. We picked it because it has buttermilk fried chicken and waffles. Every dish has the hearty, stick-to-your-ribs quality that constitutes a perfect midday break spot, from burgers to sandwiches to wraps and breakfast skillets. You get the 'point.'
Read More: Enjoy More Breakfast On The Strip To Start The Day »
Boutiques, Bars and Bistros
This fun contemporary spot is the perfect spot to hit before a night out, or the moring before a flight home. Palettes also happens to house one of the cheapest happy hours on the Strip, so when the drinks get expensive, hotel guests can default to the Springhill Suites favorite.
Not in the mood for a full meal just yet? The Lounge has you covered. Snack on some bar bites and chase them down with a fun cocktail, such as a mango chipotle margarita, before hitting the town.
VICE VERSA Patio & Lounge at Vdara
Let lighter fare from VICE VERSA power the day. This chill boutique full of plants and botanicals is both relaxing and reviving. Homemade sandwiches are the ticket here, and when combined with a Tropics Vice juice, a beautiful blend of health and flavor is born.
Everything you love about a good wine bar is done at Wally's. Charcuterie boards that look like they were dropped from the heavens complement an 8,000-item wine label list, and the entrance is just inside the towering doors of Resorts World on the Strip.
European
Snag a sweet Strip view from Rivea's 64th-floor location. The European influence is strong here, blending French and Italian-style fare into gorgeous combinations for tasting menus and entrees. Relax among nautical-colored walls and driftwood-inspired surroundings, to escape into the slow speed of dining across the pond.
French
This French restaurant in Bellagio marries the frivolity of the world-class circus performance with its cuisine in spectacular fashion. Nosh on French fare with a slight tropical twist. For each preset menu, a sommelier pairing is optional but highly recommended.
Italian
This is a Las Vegas staple that has been around for over 50 years. In true Italian hospitality, free house wine and a cappuccino are included with every meal, as well as some unique live music that won't disappoint.
This is one of the best Italian restaurants in Las Vegas. For more culinary adventures in the form of Italian cuisine, read more about international dining options in Las Vegas.
Step back in time to vintage Las Vegas with the world's most famous love song crooner. Chef Theo Schoenegger's history of cooking in Italy in his youth made him a natural choice for the role of Sinatra's founder and executive chef. He recreates Frank Sinatra's favorite Italian food here, from osso boco to Branzino sea bass.
Celebrity chef Giada has spearheaded one of the most successful Italian restaurants on the Strip, and her legacy stretches beyond the doors of The Cromwell.
Off The Strip at The LINQ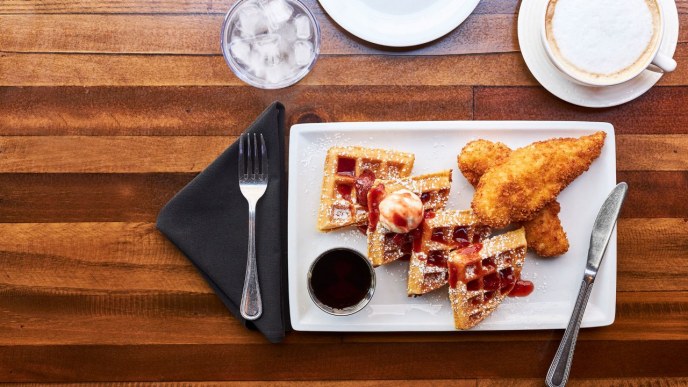 Despite loving the name, we're not biased on why this is our favorite LINQ eatery. Off The Strip is huge, stretching out over two stories and providing more than enough barstool space over its three bar spots. This bistro has something for everyone, including "Fresh and Fit" options for lunch and dinner to complement a deletable daily brunch.
Resorts World may be the newest kid on the block, but Brezza is already making waves in the culinary community. This upscale Italian eatery makes the claim to be "seasonal and sustainable," with a focus on using fresh ingredients available at the time of visitation. "Alfresco dining" is also available, which literally translates to mean "eating outside."
Fall in love with the fare? Take cuts of dry-aged beef to go from Bistecca di Brisson, the wholesale sector of Brezza.
Eataly isn't just one restaurant. Part wine shop and part eatery makes Eataly one of the more unique Italian concepts to enjoy on the Strip. The Chef's Table is one of the premier locations for both food and people watching.
Vintage dining experiences are becoming a rare commodity these days, but Pin-Up Pizza maintains the nostalgia. Servers in 50s garb nod to a simpler time, and the pizza slices are huge and delicious, much like the standard New York-style slices that have been adored for decades.
Spanish
This is the only exception on our list, as this tapas bar isn't in the hotel proper. Earn your calories by taking the short stroll to Firefly Tapas, where decadent small plates and stackable dishes are displayed in a novel-sized menu. For the super hungry, order the paella, which is served on a plate the size of a car tire and is delectable to boot.
Indian
Polo Towers has an unbeatable location on the Strip. While there is a myriad of walkable dining options, we recommend strolling over to Tamba Indian Cuisine for a hearty meal. Tamba declares itself to be the best Indian restaurant in Las Vegas, and with a miles-long vegetarian menu and actual feasts for the adventurous, we're inclined to back their claim.
Read More: The Best Indian Restaurants On The Strip »
Mexican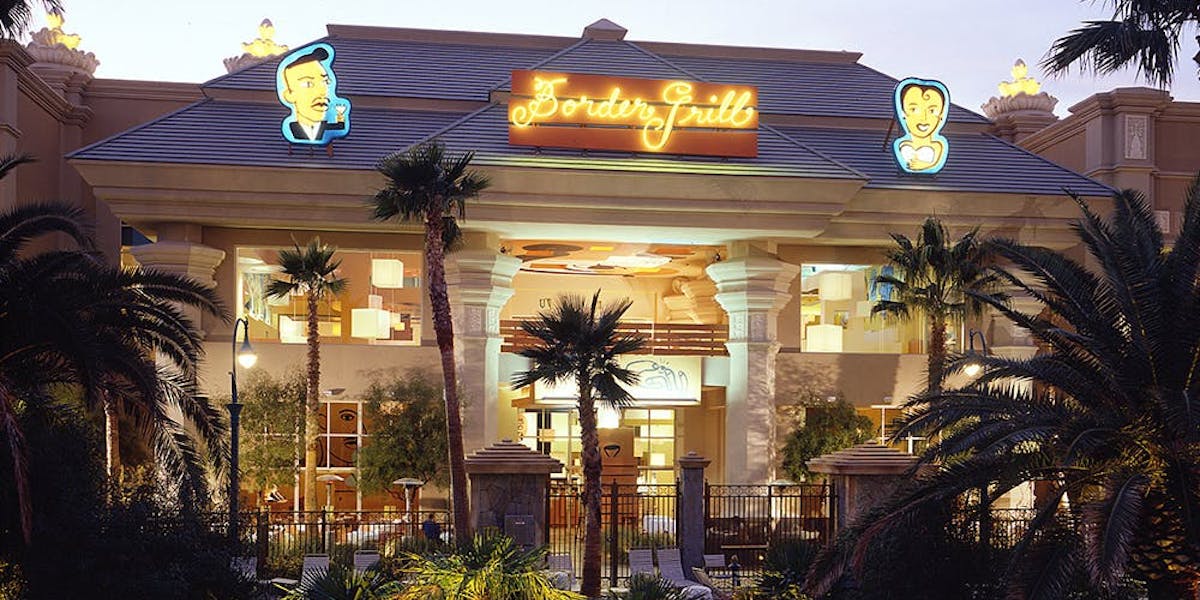 Voted one of the "Best Women-Led Restaurants in 2019" is just one accolade for Border Grill. The cool aunts of cooking, celebrity chefs Mary Sue Milliken and Susan Feniger, opened this airy counterpart to the Los Angeles location to bring their Mexican classics to Las Vegas crowds. With the rustic stucco feel of an actual Mexican cantina, you wont be disappointed.
Bonus: bring your Border Grill favorites to you with food trucks and catering.
When Cinco de Mayo and Taco Tuesday call your name, head to Casa Calavera. This Las Vegas Mexican restaurant is a special occasion haven, offering the best in holiday specials and deals for delicious food.
It's easy to spend your entire night partying at Señor Frogs and TI. Pregame at the restaurant and grab a Mexican fusion meal before heading to the neon nightclub. The bright decor and late hours will keep the energy high and the cocktails flowing.
Poolside
Pool dining is always a win. Open from March to November, walk up to Waves and grab a drink or snack to accompany your relaxing poolside hours.
Poolside appetizers are the perfect start to any evening, and the 5th Floor Pool Bar & Grill provides sumptuous snacks for the outdoor pool. Scope out where your night will take you, whether it be Aussie Heat or the Bellagio, and snack on tacos or chips to fuel up.
Seafood
CATCH at ARIA
Put simply, CATCH is The Strip's ultimate surf'n'turf restaurant. Non-contemporary takes on classic favorites are what make it ARIA's premier spot for high-quality steak and seafood dishes on the Las Vegas Strip. Plus, any getaway anxiety will be eliminated if the "Hit Me Cake" is ordered. Trust us on this one.
Emeril's New Orleans Fish House at MGM Grand
Calling all pescetarians for some Creole delights. The power of good ol' Louisiana cooking is on full display at Emeril's signature seafood restaurant on the Strip. Whether you shuck oysters with your friends or dig into a seafood tower, make sure that bib is on straight—and don't forget the whiskey.
Steakhouses
Circus Circus is already a classic stay on the Las Vegas Strip. Therefore, it makes sense to visit the staple steakhouse located on the property. The Steak House offers some tried-and-true menu selections, from salads and sides to premium cuts of meat, poultry and seafood. Add that to a cozy interior and a price point to please, and guests will be in the market for a prime evening.
Bugsy & Meyer's Steakhouse at Flamingo
We can all appreciate the timeless aspects of a vintage restaurant, especially when it nods to history. Bugsy & Meyer are integral figures in Las Vegas' beginnings, having opened the Flamingo resort in 1946 and bringing the Strip to life in the process. That era has been preserved at the restaurant in every detail, from the plates to the speakeasy in the back.
This is one of those hidden-in-plain-sight restaurants on the Strip. Locals will claim to have driven by it a thousand times, but it's worth a visit.
The Strip has its fair share of dinner places, but ENVY is worth staying in for—if only for one night. For hotel guests, head downstairs to dig into a premier steak and glass of wine.
Balcony views and decadent meats make this Las Vegas Strip steakhouse a can't-miss spot. As a cocktail bar and nightclub to boot, this trifecta of fun is proceeded by a dinner that won't be forgotten. Nosh on upscale eats alongside your steak, such as scallops and short rib bruschetta, and don't forget to pair everything with a Witch Doctor cocktail to set the mood.
Bazaar Meat by Jose Andres at SAHARA
No other culinary experience comes close to the mountains of meat served at José Andrés' award-winning creation. Guests can step away from the mundane and into a strikingly outfitted restaurant full of delicate details and creative cuisine.
P.S. we know that the meat is the main attraction, but even the most carnivorous will appreciate the beefsteak tomato tartare.
Top of the World at The STRAT
Let's be honest; the main appeal for this restaurant is the view of the Strip. However, the happy hour and dessert menu have us coming back for more. 800 feet in the air might not sound like everyone's favorite scenario, but you'll be dining from the safety of the skybar and can relax into the bird's-eye vantage.
The Westgate has celebrated its presence on the Strip for over 50 years, and Edge Steakhouse is one of the leading eateries that help to keep the legacy alive. Whether you choose to indulge in the classic Wagyu and wine or a Skuna bay salmon dish, there is no wrong choice at Edge.
Tournament of Kings Dinner Show at Excalibur
Theme restaurants always guarantee a lighthearted, fun time. The Tournament of Kings Dinner Show is a lively, perfectly costumed event that is fun for all ages. With a dinner presentation that's delicious and hearty, the decision on what to eat is already made, so the only thing you have to worry about is enjoying the show.
This is just a fraction of the restaurants represented in the resorts on Las Vegas Boulevard. Dozens of countries and cuisines are represented all over Las Vegas. Whether you're looking for more Italian restaurants on the Strip, Mexican spots or just a place to relax and have some cheap food, the city has you covered.
---
Frequently Asked Questions About the Best Restaurants on the Strip
What is the best restaurant on the Las Vegas Strip?
From Michelin-star dining to cheap eats, the best restaurants on the Strip depend on the diner in question.
What is the most exclusive restaurant in Las Vegas?
What is the average cost of a meal in Las Vegas on the Strip?